If you have ever witnessed runway fashion, you must have, at least once in your life, felt like looking as skinny as those gorgeous Italian models look. Well, a skinny body comes straight from heaven. No bargains! And with so much of amazing food everywhere, it's indeed a challenge for a lot of women to be and stay skinny. So, blessed are those who really have their skin clinging to their bones.
If you too have this secret desire of looking skinny, then you must definitely try out the under-mentioned Bloggers Fashion Tips To Look Skinny. By following them, you might not look like Tyra Banks, but you will definitely look like a slimmer version of yourself. If you too feel what we feel, then check out these amazing Ways to Wear Wrapped Crop Top Outfits and make your style stand out. So, what makes you wait? Dive in-
Bloggers Fashion Tips To Look Skinny
Why don't you get yourself shapewear?

Image Source
Out of all the Bloggers Fashion Tips To Look Skinny, this one is our top favorite. Shapewear squeezes your body and brings out the best in you.
Say yes to vertical stripes

Image Source
If you want to look slim, go for tops and bottom-wears having vertical stripes. Vertical stripes are not just effective in making you look slimmer, they are also in trend these days.
Say no to horizontal stripes

Image Source
While vertical stripes shrink your body, horizontal stripes add bulk to it. So, whether it is a horizontally striped top or bottom wear, it will pull your body laterally, which is not a thing to look forward to, if you are trying to look skinny.
An all-black outfit can mask your bulky body

Image Source
A black outfit goes a long way in making you look leaner. And that is probably the reason why a lot of women and men across the world are opting for this trick to look slimmer.
Add length to your short and bulky lower body

Image Source
You can do so by slipping into a pair of high-rise pants. High rise pants create the illusion of long legs. As a result of which you begin to look slimmer.
Belts can go a long way

Image Source
Clinching your waist with a nice belt is all you need to make your tummy look slimmer. This trick is especially helpful for you if you have more fats accumulated around your waistline than in other parts of the body.
Do you wear the right bra?

Image Source
The wrong bra can make you look fat around the breasts. Side spillage is one of the most common reasons behind this. The right bra can sort out this problem without hassles.
Fit and flare dresses are a must-have in your wardrobe

Image Source
Out of all the cuts available for dresses, fit and flares are the most body flattering. They don't just highlight your curvy body but also make you look skinny.
Wear your nude heels more often

Image Source
When it comes to Bloggers Fashion Tips To Look Skinny, nude heels can't be beaten. They don't just make you look slimmer but also taller.
Do some serious makeup contouring

Image Source
A lot of women look fat because of their plump face. With the right contouring, you can make your face look a hundred times slimmer than what it originally is.
Long sleeves for bulky arms

Image Source
If your arms are bulky, then refrain from showing them off. You can always mask them with a full-sleeve top. Remember, your bulky arms can make you look terribly bulkier. You can take some idea from Cute Winter Outfits Ideas For Teens. Have a look-
Highlight assets

Image Source
If you want to draw people's attention away from your bulky body, then wear clothes that highlight your assets. Maybe you have great butts or maybe you boast of well-shaped bosoms. Well, if you have, why not flaunt them?

Image Source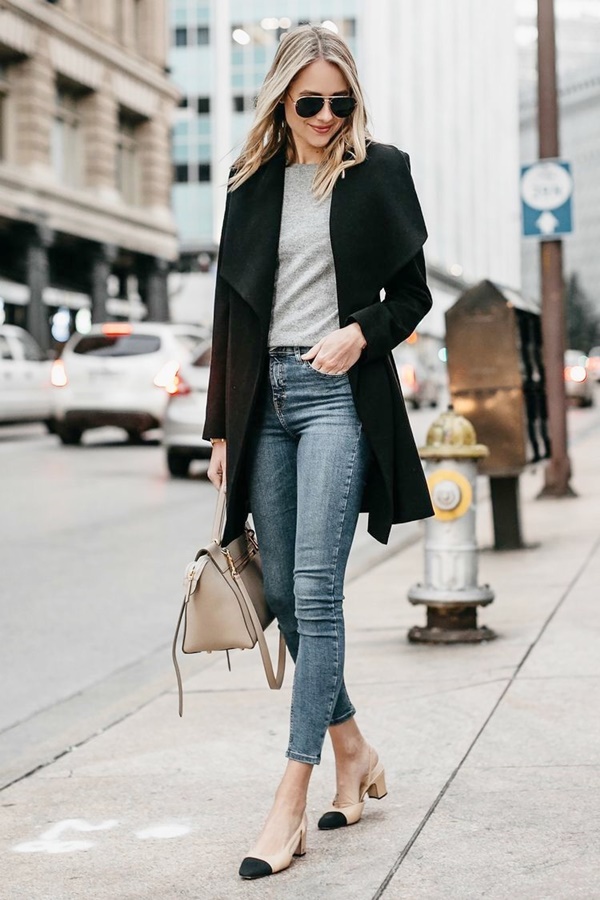 Image Source

Image Source

Image Source

Image Source

Image Source

Image Source

Image Source

Image Source

Image Source

Image Source

Image Source

Image Source
The above Bloggers Fashion Tips To Look Skinny are tried and tested. These fail-proof tricks work on almost all body sizes. So, no matter how tall or short you are, if you are bulky, the above tips will help you look slimmer. Try them out without fail for all your forthcoming public appearances and witness people's amusing reactions! <a href="http://www.mrsstylish.com/ways-to-wear-your-black-leggings-in-style/" rel="noopener" target="_blank">Here we present some Ways to Wear Your Black Leggings In Style. Check out-